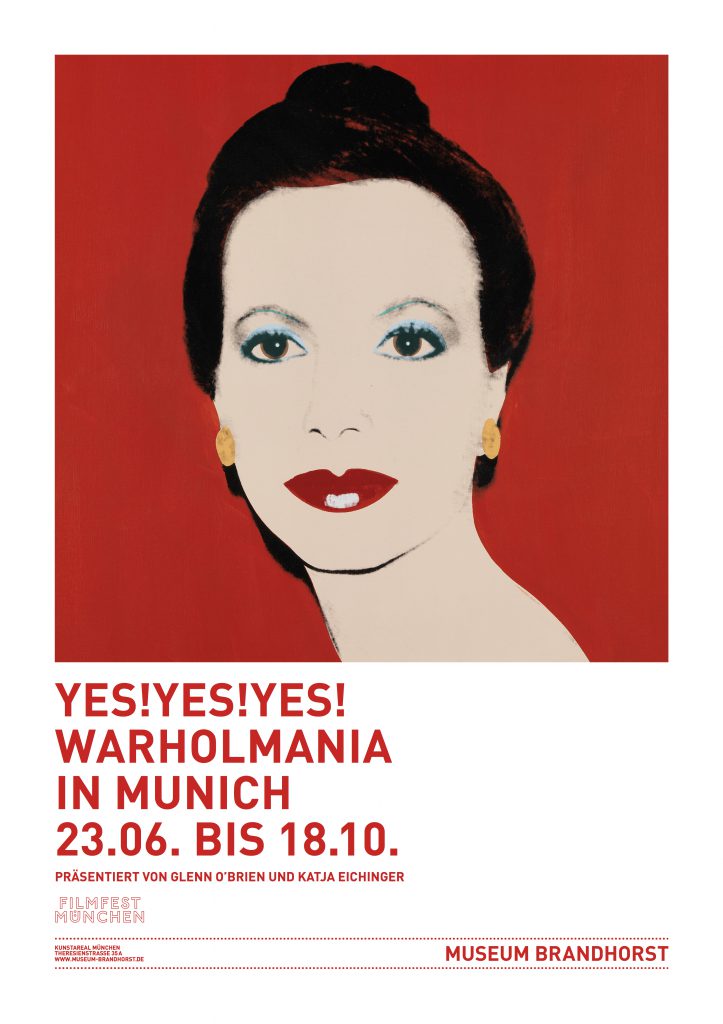 Presented by Glenn O'Brien and Katja Eichinger YES! YES! YES! WARHOLMANIA IN MUNICH was a collaboration between the Museum Brandhorst and Filmfest München, featuring the painterly and cinematic work of Andy Warhol.
For the first time, the Museum Brandhorst presented its entire collection of works by Andy Warhol in one go to mark 'Yes!Yes!Yes! Warholmania in Munich'. With well over 100 works, the Museum Brandhorst boasts one of the most important Warhol collections in the world.
The museum handed over its small media room to Glenn O'Brien, one-time close assistant and colleague of Andy Warhol. O'Brien, former member of Warhol's 'Factory' and first editor of 'Interview', started his own TV show on a public-accesscable channel in 1978, just before Andy Warhol launched his own show. 'Glenn O'Brien's TV Party' ran until 1982 and was conceived in the traditional mode of a late-night talk show, complete with studio band and guests. Clips from selected shows screened in the museum. As such, O'Brien's programme shared many key ideas with Warhol's own approach.
On the night of the exhibition opening (27 June 2015), six episodes of 'Glenn O'Brien's TV Party' were broadcast in succession, starting at midnight on ARD alpha, featuring scenes and short interviews from the opening at Museum Brandhorst.
Parallel to the Museum Brandhorst's showing of Warhol's paintings, drawings, and television broadcasts, Glenn O'Brien and German author Katja Eichinger presented a retrospective selection of Warhol's films. The screenings were shown as part of the Filmfest München (25 June-4 July 2015), in association with the Andy Warhol Museum in Pittsburgh. And, in addition, a separate film series will trace Warhol's influence as a filmmaker on later generations of directors, like Sofia Coppola and Harmony Korine.